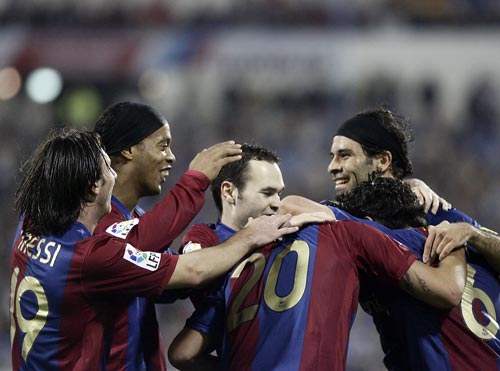 Zaragoza 1-2 Barca (agg. score 2-2, Barca go through on away goals)
Barca starting line-up (3-4-3!):
-----------Jorquera
--Oleguer-Thuram--Puyol
-----------Marquez
----Xavi-----------Iniesta
------------Deco
Giuly-------------------Messi
----------Ronaldinho
tactics
Well, that sure threw everyone for a loop.
Rijkaard
sometimes resorts to what all Barca fans think of as the Dream Team formation if a match is going really badly, but this is the first time he's started with it. If you told me beforehand this was going to happen, I would have had a fit - no strikers, where are the goals going to come from?
Wonder of wonders, it worked. And it's interesting that Rijkaard can still pull off clever tactical changes at a time when everyone is questioning his tactical competence. (Personally, I think it's rubbish - everyone thinks
Mourinho
's a tactical genius, but look at his tactics in the Barca leg of the Champions League game last season.
Robert Huth
as makeshift center forward, anyone?)
I think Rijkaard formulated the 3-4-3 almost out of necessity, rather than simply a bold tactical stroke (which it also was, and which doesn't always work). This way, he could rest certain players (
Eto'o
,
Zambrotta
,
Gio
,
Saviola
) in preparation for the hard week ahead.
It's also psychologically very clever. I'll let Rijkaard explain it himself:
He explained that "this system requires individual effort. If anybody doesn't do their job, a team-mate will notice it".
And of course the demands of the 3-4-3 means that it only works if everyone is giving everything to it, and concentrating 100%. It's almost forcing all the players to buck up their performances (or be noticed as the weakest link in the chain) where some of them have perhaps been phoning it in lately.
Barca's performance flagged in the second half, which I'm not too pleased about - do that against a team like
Liverpool
and you'll lose your lead before you know it. But I suppose we do need to conserve energy and all that. Just as long as it's not a fitness issue.
individual players
Aside from the rather unnecessary antics I wrote about at length below,
Messi
was excellent, especially in the first half. In a game when
Ronaldinho
was more subdued, he took over the reins and yet again proved himself capable of being a focal point of Barca's attack.
Diogo
is an excellent defender, but he was completely beaten. To be fair, not many defenders can cope with Messi when he's on form. (Much as it pains me to say it, out of the matches I've seen
Ashley Cole
has probably been the best at it.)
Xavi
's return to blistering form is just as important as Ronnie's. He was almost unplayable.
Thuram
has been pure class since returning from injury. And we can't forget
Iniesta
, whose 7 goals this season is more than his total in the last 4 seasons. I still say that if he had his shooting boots on more he'd be on double figures, given the amount of opportunities in front of goal he has created for himself this season, but one can't complain about the kind of form he's on. Long may he wear the blaugrana shirt.
Deco
needs to stop partying and start worrying about being dropped for Anfield.
Marquez
, on the other hand, has partially redeemed himself with this performance, although it was his lapse of concentration that led once again to the goal we gave up. It's a pity such a fine player seems to be turning into the
Rio Ferdinard
of La Liga - he needs to sort his head out, pronto.
summing up
This result was a pleasant surprise, I have to say. We haven't won away in far too long. I mentioned before the game to Isaiah at the
Barca Offside
blog that if we won this game, I'd start mustering up some hope again about
Liverpool
. Well, I guess I'm going to have to allow a tiny glimmer of it to rear its head.
That's the thing about hope, though - when it's followed by crushing pain and disappointment, it sort of discourages you from feeling the same way again. And us Barca supporters certainly know about that as much as the next fan, especially if we were around before the Rijkaard years.
the state of Spanish football and the Seville derby
On a last, sombre note, I'd like to express full agreement with Sid Lowe's insistence that the
bottle-throwing at the Seville derby which rendered

Sevilla

coach

Juanmo Ramos

unconscious
was not an isolated incident. In fact, as Sid details in his article, it wasn't even the only incident in that match alone. Ramos is always a good sport, never whines about other teams or referees (so if he does go to the Premiership, he's going to stick out like a sore thumb) and has my admiration for the great work he has done. His own response to the events after regaining consciousness was typically sensible. There's no need to stir things up anymore within the city, after all.
(The presidents of both clubs should, in my opinion, take some of the responsibility for the way they've stirred things up. If not for their childish bickering things might not have descended to this level. Tim of La Liga Loca
has a slightly different view
, and it's well worth reading.)
But maybe it's about time the authorities did something about all this. If
Samuel Eto'o
had played against
Zaragoza
I'm sure we'd be hearing about monkey chants directed at him right now. Instead, Barca 'keeper
Albert Jorquera
was hit by a bottle thrown from the stands. Thankfully it hit him in the back and he wasn't injured, but that's 2 of the 4 quarterfinals blighted by such incidents. Oh yeah, and the Barca team bus was attacked as it left the stadium. And what about the chaos and violence of last week's Madrid derby? The Camp Nou usually behaves itself these days (except when booing their own players) but I'm getting a bit worried about El Clasico.
Spanish football is known for many things, not all of them positive, but there's no need to add 'missile throwing hooligans' to the list, which already includes 'racist chanting'. It's time the clubs and league authorities got tough on both.