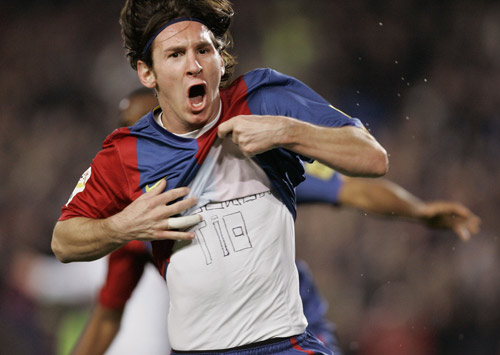 To quote an Argentina supporter immediately after the 3rd goal:
EL NUEVO PIBE DE ORO POR DIOS!
Looking around the forums, I see a lot of grumbling about
Rijkaard
's tactics, about the defence, and (inevitably for El Clasico) lots of arguments between
Barca
and
Real
supporters about the referee.
But you know what, I don't care about all that right now. I don't even care that we'll probably be 3 points behind
Sevilla
tomorrow. As far as I'm concerned, what a battling performance. What a game, fully living up to the reputation of El Clasico. It had everything you could ever want out of a football match (okay, maybe with the notable exception of decent defending): goals, drama, controversy, and a soon-to-be-legendary performance from a rising star.
What a player young
Leo Messi
is. As big a fan of the lad as I've been, I've had doubts about him this season, and there's been plenty of quiet grumbling amongst Barca supporters about his occasional over-playing (sound familiar,
Man Utd
fans?) but there's nothing like a hat-trick in El Clasico to shut people up.
I think he's finally coming of age. One thing's for sure, his place in Barca's pantheon is secure. Those of us who worry about Barca after
Ronaldinho
can rest easy. And
Cristiano Ronaldo
has some proper competition.
Here's an encouraging thought for Argentina supporters, too:
Gonzalo Higuain, Fernando Gago, Lionel Messi
- 3 excellent Argentinean players played a huge part in the biggest club match in the world, and all 3 are below 21 years old. What kind of team are they going to make together with all our other young talent?
Much more on the game later.